Travel Concierge and Logistics Services
First Business Logistics Limited is a Travel Logistics, Concierge and Aviation Services Solutions Provider with service offerings specifically developed to ensure a better passenger travel and logistics experience in the Nigerian Aviation Sector.
Travel Concierge and Logistics Services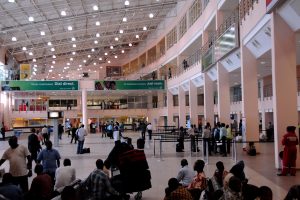 AIRPORT PROTOCOL SERVICES
This involves meeting and greeting of passengers at both Murtala Muhammed International and Domestic airport (MMA2). Passengers are received at either airport on a fast-track process.
INWARD CLEARANCE (ARRIVAL)
We take the burden off the client by fast tracking clearance through immigration when you use our Travel Concierge and Logistics services.
Our protocol officers are on standby to collect the passengers passport, help them through immigration formalities, sort out their luggage and take them through the various agencies to the pick-up / drop-off point.
OUTWARD CLEARANCE (DEPARTURE)
Our clients luggage can be received in advance and pre-checked with the intended airline (subject to airline and airport security procedures).Passengers are thereafter presented with their boarding passes and escorted to the foot of the aircraft to board on a fast track. Our aim is to ensure that you make that flight with minimum fuss!
TRANSIT CLEARANCE
Clients on our Travel Concierge services may be received at one terminal, conveyed in our comfortable executive saloons and checked-in at the other terminal. This service is particularly useful for clients residing outside Lagos seeking to make connecting flights to and from Lagos.
CONFERENCE/ GROUP CLEARANCE
Clients travelling in groups of 2 or more can be met and clearance effected on a fast track basis at either of the terminals or at both.
ABSENTIA CHECK- IN FOR EXECUTIVES
An executive client who needs absentia check in is rendered this service based on trust. We require them to send in their bags and passport through their P.A or trusted driver. We check them in absentia and wait for the client with his boarding pass, while our officer in charge walks him off through the immigration to the foot of the Aircraft.
Our other Airport logistics services provided include:
Hotel Reservations with hotels of your choice at your preferred destination in Lagos.
Armed Escort to your preferred destination in Lagos.
Executive Limousine/SUV hire.
Luxury Bus hire for Conference or Group Logistics.
First Business Logistics aims at all times to render services beyond the expectation of our customers thereby making us your preferred Travel Concierge and Logistics services provider.
My last trip to Dubai was something to remember and all because guys at First Business were on ground to see me through all the protocols. i felt like i was on first class. Keep it up guys.

You guys were a joy to work with, and I can assure you that I would be the first in line to recommend First Business Logistics for any travel logistics services. Booked my flight, booked my hotels, picked me up from the house and it was fun till i got on the plane.
Travel Concierge and Logistics Services